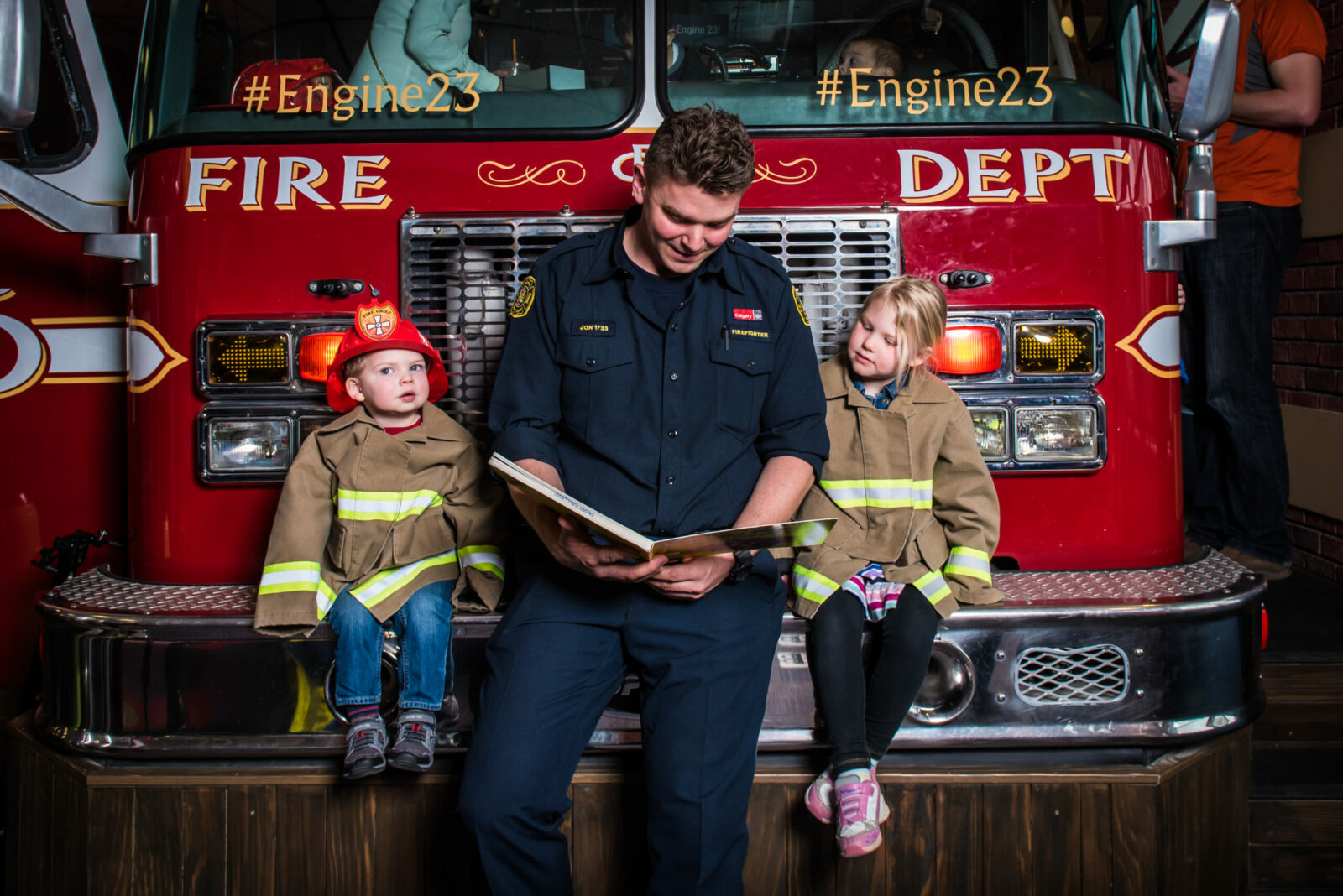 Engine 23
Give kids a Ladder Up on Literacy! Help bring Engine 23 to Fish Creek Library this year.
The Ladder Up on Literacy fundraising campaign will bring back Engine 23, the Library's popular children's fire truck. 
During its time at Calgary's former Central Library, Engine 23 engaged thousands of children with its unique hands-on approach to literacy skill-building and safety education, all while providing five-alarm levels of fun! Since 2018, the truck has been in storage and waiting for a new home. Calgary Public Library Foundation is asking donors to be the heroes in Engine 23's story and help complete its journey to Fish Creek Library. 
Skill development in early childhood sets the stage for future success. One out of every four Canadian children lags behind their peers in aspects of social and emotional development, even before they start grade one. Through donor support, Engine 23 will become the heart of a brand-new play and learning experience for children ages 0 to 12.
Stop, drop and donate! Your support provides a ladder up on early literacy and moves Engine 23 to a new home at Fish Creek Library this year.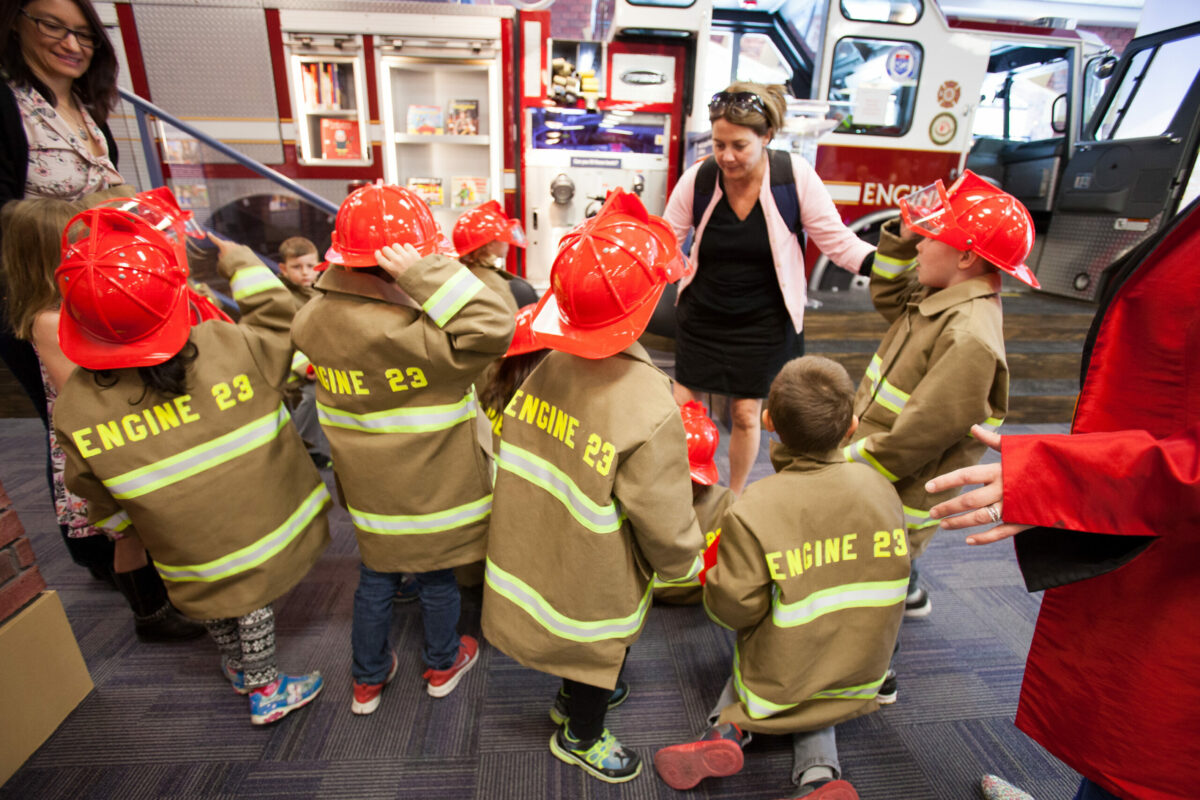 Frequently Asked Questions
Engine 23 is a decommissioned Calgary Fire Department truck. It was converted into an educational play structure in 2016, where it became instantly popular to Library patrons young and old at its home in the former Central Library. 
As a fire truck, Engine 23 helped protect Calgary for almost two decades. It weighs over 20 tonnes, holds 2,200 litres of water, and, notably, was the first truck on the scene of the Hub Oil explosion and subsequent fire in 1999.
As a play structure, Engine 23 is open-ended and interactive, designed to foster and develop the five early learning skills: talking, singing, reading, writing and playing. The installation also provides opportunities for children to get to know firefighters and learn all about fire safety.
Beloved for its unique architecture and spacious layout, southeast Calgary's Fish Creek Library is our city's largest community library by area. It serves a population of almost 90,000 people, many of whom are parents and caregivers of young children. The addition of Engine 23 to the Library's already-popular Questionarium will give Fish Creek the largest children's library of any community library and cement its status as a major destination for families throughout the city.
To make this move a reality, we have set a community fundraising goal of $100,000. Your donation of any size will help us rev up the engine and transform Fish Creek Library into an exciting play and learning destination for Engine 23.
We expect Engine 23 to be in place as part of Fish Creek Library's revitalized children's library later in 2023, but we need donor support to make it happen.
Early Learning Centres (ELC) are multifaceted spaces that nurture children's early learning development in motor, social, language, problem solving, and creativity skills. ELCs also support caregivers in learning about early literacy development, how to help children along in the journey, and why development of these skills is vital for future success. These accessible spaces are overseen by knowledgeable and experienced staff and supported by our Early Literacy Volunteer Corps, which is trained to engage with visitors in the space and facilitate play-based activities.
Thanks to generous support from our donors, Calgary Public Library has 12 indoor Early Learning Centres and one outdoor nature playground. Check out the full list here. These accessible spaces allow parents and caregivers to meet others, which helps to foster connections that combat social isolation and ultimately strengthen our community.
Thank you! We're grateful to you for supporting the work of the Library with this important priority. We would be pleased to discuss opportunities for named spaces within this project. For more information, please contact Sade Nasser, Director of Development, at 403.260.2675 or sade@libraryfoundation.ca
Absolutely! Every effort has been made to ensure an accessible, inclusive–and safe–experience for all. Any and all references to revs from Engine 23 are imaginary!
Engine 23 made possible thanks to:
Donors to the Calgary Public Library Foundation