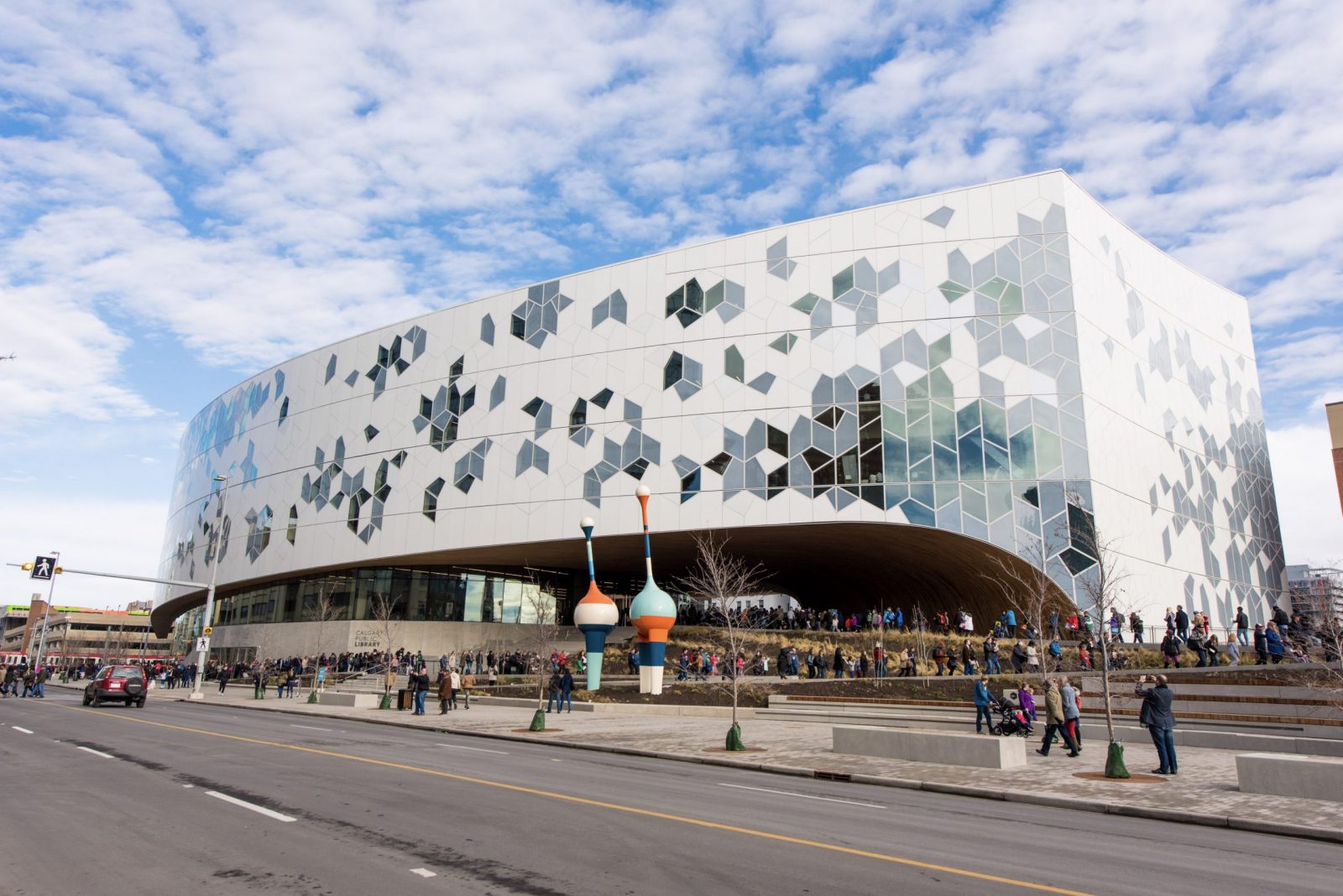 Careers
Join our small and mighty team
The Calgary Public Library Foundation empowers people to make a difference in their community.
We are a passionate group of non-profit professionals who have been inspired by the impactful programs and services our library system offers. We're a small and mighty team whose sole purpose is to raise funds for the Calgary Public Library, cultivating innovation and bringing programs, services, and collections to all.
Check this page often for job postings to join our team.
This job is funded by the Government of Canada through the Canada Summer Jobs program. You must be aged between 15 and 30 and be legally entitled to work in Canada. International students are not eligible.
We're a dedicated group of fundraisers who are constantly striving to make the world better. We believe in our heart of hearts that libraries are critical, and the Calgary Public Library improves the lives of Calgarians. Our donors are a top priority and we are truly grateful for all 21,000+ of them, who, through philanthropy, make the Library even better by removing barriers, supporting innovation and creating a more resilient community.
We're a collaborative group, more likely to call out to our colleagues and hash out a problem on the fly than send an email. We're creative problem-solvers who love trying new ideas. We have fun but never forget to challenge each other and the status quo.
Our organization is looking for an Administrative Assistant for an eight-week position to support our busy team of fundraisers in myriad ways. This is an exciting opportunity for the right candidate to be mentored by our CEO, work closely with our team, and discover the non-profit industry with the Calgary Public Library Foundation.
About You
If you want to gain hands-on experience in the operations of a non-profit organization, then this is the opportunity for you. You are organized and resourceful, with an unparalleled attention to detail. You thrive when working with others, and are happy to pitch in where needed; whether working with a colleague or finding an answer for a donor.
You can anticipate needs and get the job done before anyone has a chance to ask. You use your creative problem-solving skills to deal with conflicting priorities while being a collaborative team player. Most importantly, your drive to gain skills and experiences inspires you to embrace new projects with the same enthusiasm you bring to familiar tasks.
What You'll Do:
Grow our Resources
Assist with our Social Enterprise Initiative (LibraryStore.ca) by maintaining inventory, providing customer service to purchasers, fulfilling orders and ensuring each purchase is acknowledged and connects back to the work we do.

Support the marketing, communication and administration of our virtual events.

Learn the ins and outs of our website and social media platforms, assist with edits and posting regular new content.
Steward our Donors
Respond to existing and prospective donors in a timely and professional manner through phone calls and emails.

Learn the basics of our database (Raiser's Edge) to enter donations, pull reports and provide support with digital communication pieces.

Practice proper donor stewardship practice with weekly thank you phone calls and letters to donors.
Support the Team
Work closely with our entire team and support your colleagues in various scenarios.

Organize our Shared Drive, ensuring our digital filing system is user-friendly and efficient. 

Maintain our office space, providing support with filing and organizing supplies and event materials. 
Our Ideal Candidate:
Has strong organizational skills and a can-do attitude.

Is technology-savvy, and willing to learn new systems to support our team.

Can multitask in a fast-paced environment, showing initiative, attention to detail and has no problem meeting deadlines.

Possesses strong customer-service and relationship skills.

Is a self-starter who asks the right questions, and once trained, can work independently. 
What You'll Get:
$15.75 hourly for 35 hours per week

8 week term

While you will be working virtually most of the time, working from our space in Calgary's new Central Library a few times a week is required.
The Interview Process
We will review all resumes using blind screening and invite the top candidates to discuss your skills at our first round of interviews.

Shortlisted candidates will be invited to meet the team virtually. You'll spend five minutes with each of your potential colleagues and get to learn more about our organization.

If you're offered the position, we will have you start as soon as you are able – why wait?
We know every single person brings something different to the table. We encourage you to show your personality and demonstrate your skills in your cover letter.
Please send your cover letter and resume in a single PDF document to info@libraryfoundation.ca.

The subject line of the email should read "Administrative Assistant."
This posting will be open until we find the right person for our team, but don't delay – we hope to start calling potential candidates as early as May 21.
This job is funded by the Government of Canada through the Canada Summer Jobs program. You must be aged between 15 and 30 and be legally entitled to work in Canada. International students are not eligible.
We value diversity and inclusion and welcome diverse expertise and talent to support an innovative and collaborative work environment. We are committed to a respectful and inclusive workplace and welcome applications from all qualified candidates, including people of all gender identities, Indigenous people, persons with disabilities and members of visible minorities. We are happy to provide reasonable accommodations throughout the selection process, if so, please advise when you are contacted for an interview.