January 20, 2023—We are saddened to hear of the passing of Jim Button. Jim was a community leader whose positive mindset, kindness and generosity will continue to inspire us all to do our part in making our community an even better place to live. You can hear from Jim and take inspiration from his own words here.
Who is Jim Button?
Connector, Community Builder, Optimist and Friend
Jim Button is undeniably one of the most-recognized names in Calgary; in addition to co-founding Village Brewery and the Event Group, he has fostered community connections and been a leader in experiential marketing in our city. Together with his family, Tracey, Jack and Amanda, they are inviting you to enjoy the beauty, culture and resources provided by the Calgary Public Library.
Chapter One: Buttons is generously supported by Avnish, Bijal and Sørin Mehta and features 101 books selected by community builders, Button's Buttons, and the Library's Reading Influencers Display at Central Library. Find more about each of these components below.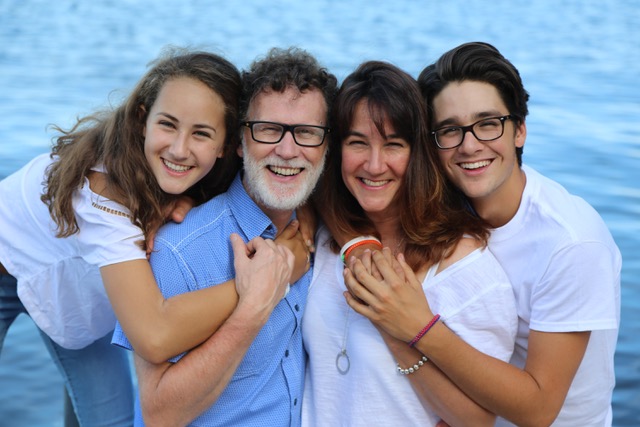 101 Books for a Better Calgary
As part of this initiative, we reached out to 101 community connectors, and asked them each which title they felt that Calgarians should read. From Andrew Phung to Naheed Nenshi, The Wonky Donkey to Man's Search for Meaning, these books will inspire, allow you to reflect and learn about the world (and people) around you, and may earn a spot in your own personal list of favourite books.
| Community Connector | Book Selection |
| --- | --- |
| Aman Adatia & Lyndee Kehler | When Breath Becomes Air by Paul Kalanithi |
| Amish Morjaria | The Sprightly Carrot's Dream by Jennifer Tremblay |
| Andrew Mosker | Music Lessons by Bob Wiseman |
| Andrew Phung | The Outsiders by S.E. Hinton |
| Andy McCreath | Forever Terry: A Legacy in Letters by Darrell Fox |
| Anne Fraleigh | The Flood of 2013: A Summer of Angry Rivers in Southern Alberta |
| Arlene Dickinson | The Art of Gathering: How We Meet and Why It Matters by Priya Parker |
| Ashish Mehta | The Silva Mind Control Method by José Silva |
| Avnish, Bijal and Sørin Mehta | Unicorn (And Horse) by David Miles |
| Bib Patel | From Good to Great by Jim Collins |
| Bill Brooks | Real Magic: Creating Miracles in Everyday Life by Wayne Dyer |
| Bill Hunt | Obasan by Joy Kogawa |
| Blaire Lancaster | Mitzi's Magic Garden by Beverley Allinson |
| Bob M Sumner | All Families Are Psychotic by Douglas Coupland |
| Brad Krusky | Into Thin Air by Jon Krakauer |
| Brad Zumwalt | The Innovators by Walter Issacson |
| Brenda Lieberman | Accidentally Wes Anderson by Wally Koval |
| Bret Hart | Three Day Road by Joseph Boyden |
| Brian French | A Gentleman in Moscow by Amor Towles |
| Chris & Pam Berry | The Great Santini by Pat Conroy |
| Chris Cran | The Big Secret Book: An Intense Guide For Creating Performance Theatre by Denise Clarke |
| Chris Thrall | This I Know: Marketing Lessons From Under the Influence by Terry O'Reilly |
| Christina Frangou | The Emperor of All Maladies: A Biography of Cancer by Siddhartha Mukherjee |
| Dan & Marie Evans | Harvard Business Review: 10 Must Reads on Leadership Lessons from Sports |
| Darin Fauth | Greenlights by Matthew McConaughey |
| Dave & Gene Button | A Handful of Buttons: A Children's book about Family, Diversity, Love and Inclusion, By Carmen Parets Luque |
| Dave Kelly | At Home: A Short History of Private Life by Bill Bryson |
| Dave Pierce | The Rhythms of Wellness: Follow the Wisdom of the Ancient Sages and Align With Nature's Cycles for Greater Health and Wellbeing by Jaki Daniels |
| David Brunning | The Road Trip That Changed the World by Mark Sayers |
| David Gray | The Bedside Book of Birds: An Avian Miscellany by Graeme Gibson |
| Donna Holesworth | Me Talk Pretty One Day by David Sedaris |
| Fraser & Christa Abbott | Love Where You Live: Creating Emotionally Engaging Places by Peter Kageyama |
| Fraser Tuff & Christy Farrell | Coyote Blue by Christopher Moore |
| Gary & Alison Davies | Younger Next Year by Chris Crawley |
| Glenn & Tara Kayler | The Wonky Donkey by Craig Smith |
| Glenn Street | How To Win Friends & Influence People by Dale Carnegie |
| Gord Gillies | Tuesdays With Morrie by Mitch Albom |
| Greg Curtis | The Amazing Adventures of Kavalier and Clay by Michael Chabon |
| Hal & Constance Button | Unlimited Power by Anthony Robbins |
| Jamie Leong-Huxley | Friends and Enemies: A Memoir by Barbara Amiel |
| Janet Henderson | The Web of Life: A New Scientific Understanding of Living Systems by Fritjof Capra |
| Jann Arden | Furiously Happy by Jenny Lawson |
| January Kohli | Jitterbug Perfume by Tom Robbins |
| Jeff Popiel | The Giving Tree by Shel Silverstein |
| Jennifer Allford | Sapiens: A Brief History of Humankind by Yuval Noah Harari |
| Jil Macdonald (ne:Button) | Pete the Cat and His Four Groovy Buttons by Eric Litwin |
| Jim Button Family | Love You Forever by Robert Munsch |
| Jim Carter & Heather Shaw | A Short History of Nearly Everything by Bill Bryson |
| Jim Peplinski | The Power of One by Bryce Courtney |
| John Holt | Finding Meaning in the Second Half of Life: How to Finally, Really Grow Up by James Hollis |
| John MacInnes | Jonathan Livingston Seagull by Richard Bach |
| Julie Van Rosendaal | Classic Home Desserts by Richard Sax |
| Käthe Lemon | A Short Guide to A Happy Life by Anna Quindlen |
| Karen Ball | Alberta Book by George Webber |
| Kelly Doody | An Awesome Book of Love! by Dallas Clayton |
| Ken Lima-Coelho | Start With Why: How Great Leaders Inspire Everyone to Take Action by Simon Sinek |
| Kenna Burima | The Artist's Way: A Spiritual Path to Higher Creativity by Julia Cameron |
| Laurie Stretch & David Finch | Cry, the Beloved Country by Alan Paton |
| Leanne Collins | What We Owe Each Other: A New Social Contract for A Better Society by Minouche Shafik |
| Lesley & Gord Stang | Tribe of Mentors: Short Life Advice From the Best in the World by Timothy Ferriss |
| Mahallati-Lazar Family | Echo by Pam Munoz Ryan |
| Mandy Stobo | Harold and The Purple Crayon by Crockett Johnson |
| Mark Kondrat | The Top Five Regrets of The Dying: A Life Transformed by the Dearly Departed by Bronnie Ware |
| Marshall Ennis | The World's Strongest Dad by Marshall Ennis |
| Matt Mosteller | Deep Woods, Wild Waters by Douglas Wood |
| Max Gartner & Kerrin Lee Gartner | The Little Prince by Antoine de Saint-Exupery |
| Michael Fitzgerald | Shoe Dog: A Memoir by the Creator of Nike by Philip K. Knight |
| Mogens Smed | The Splendid and the Vile by Erik Larson |
| Monica Zurowski | Dear Life by Alice Munro |
| Naheed Nenshi | How Will You Measure Your Life? by Clayton Christensen |
| Nancy Knowlton & Pascal Mean | Oh, the Places You'll Go! by Dr. Seuss |
| Nauzer Forbes | "Surely You're Joking, Mr. Feynman!": Adventures of A Curious Character by Richard Phillips Feynman |
| Neil Zeller | Wild by Cheryl Strayed |
| Pat & Kathy Button | The Snowbears of Lake Louise by David Chesky |
| Patti Pon | Calgary Through the Eyes of Writers by Shaun Hunter |
| Peggy Garritty | The Infinite Game by Simon Sinek |
| Pete & Amanda Graves | The Power of Now by Eckhart Tolle |
| Phil Mittertreiner | Man's Search for Meaning by Viktor E. Frankl |
| Phillip & Tracy Ndugga | The Code Breaker by Walter Isaacson |
| Ravi Thaker | The Blue Sweater: Bridging the Gap Between Rich and Poor in an Interconnected World by Jacqueline Novogratz |
| Rich Theroux | The River Troll by Rich Théroux |
| Rob Sawchuk | Tao of Jeet Kune Do by Bruce Lee |
| Robert & Tana Fooks | The Grateful Book by Angela Kohler |
| Roger Kingkade | Where the Sidewalk Ends by Shel Silverstein |
| Roger Milley & Karen Rawson | Full Catastrophe Living by Jon Kabat-Zinn |
| Russell Broom | A Prayer For Owen Meany by John Irving |
| Sandy O'Conner | The Cowboy Hat Book by William Reynolds and Ritch Rand |
| Sarah Geddes & Steve Mantrop | How to Live a Good Life by Jonathan Fields |
| Sharanpal Ruprai | Pourin' Down Rain: A Black Woman Claims Her Place in the Canadian West by Cheryl Foggo |
| Sharon Stevens | Through the Garden: A Love Story (with Cats) by Lorna Crozier |
| Shayne McBride & Christy Caswell | Love Is a Mix Tape: Life and Loss, One Song at a Time by Rob Sheffield |
| Steve Allan | The Rational Optimist: How Prosperity Evolves by Matt Ridley |
| Steve McDonough | Cowboy Ethics by James Owen |
| Stewart McDonough | Home from the Vinyl Cafe: A Year of Stories by Stuart McLean |
| Tanya Koshowski | Eat, Pray, Love by Elizabeth Gilbert |
| Terry & Becky Rock | Stumbling on Happiness by Daniel Todd Gilbert |
| Terry & Maria Andryo | Orbiting the Giant Hairball: A Corporate Fool's Guide to Surviving With Grace by Gordon MacKenzie |
| Tim Diffin | Jake and the Kid by W.O. Mitchell |
| Tim Tamashiro | Flow: The Psychology of Optimal Experience by Mihaly Csikszentmihalyi |
| Usman Tahir Jutt | Around the World in 80 Days by Jules Verne |
| Zahra Al-Harazi | The People We Keep by Allie Larkin |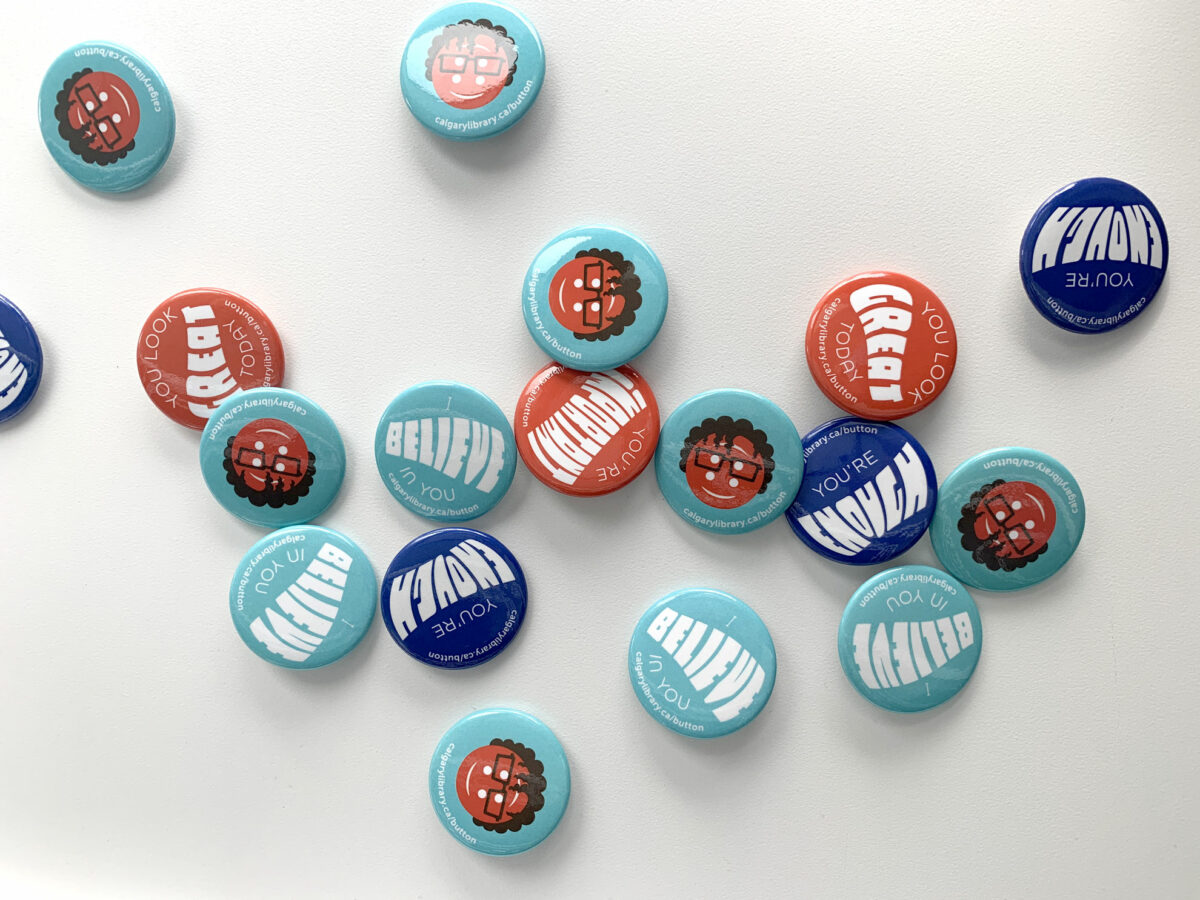 Leave a Message, Take a Button
Spread kindness wherever you go.
Button's Buttons was a series of five collectible buttons that members could collect when they visited any Library location. The buttons displayed uplifting phrases and were meant to encourage positivity and empathy in our communities. One even featured the Button Family icon!
Calgary Public Library's Reading Influencers
Each year the Library reaches out to prominent Calgarians and members of our communities to ask for their reading recommendations. Their top three book picks are then placed on display at a location for a few months before being moved to another location. Jim Button selected four books (one for each of his immediate family members) and is highlighted at Central Library during the first quarter of 2022. If you aren't able to visit Central Library, Jim selected The New Form by Brent Preston, The Art of Racing in the Rain by Garth Stein, The Maze Runner by James Dashner, and Tuesdays with Morrie by Mitch Albom and are available in the Library's collection.
Thank you
Chapter One: Buttons is generously supported by Avnish, Bijal and Sørin Mehta